9913PGQ- Workshop Tool Trolley-
9913PGQ- Workshop Tool Trolley- 3 drawers and 1 flipping drawer
Outils de voiture
Samochód narzędziowy
Werkzeugwagen

Carro De Herramientas

أدوات السيارة
รถเครื่องมือ
Professional tool trolleys and storage are available for you to organize your workplace in an efficient manner. Tool cabinets help you keep all your tools neatly organized, making your workspace less cluttered and more convenient to work with.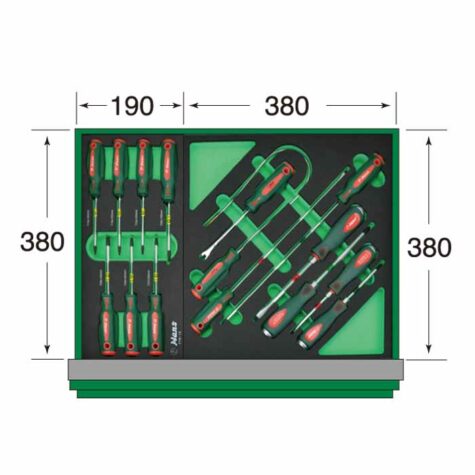 PGQ Tool Trolley/ Cabinet Storage Kits
Keep your tools neatly organized with a tool trolley or storage from HansTools. We have a massive range of high-quality products made in Taiwan. A tool cabinet is a great investment for your workshop, making it easy to find and store all of your hand tools. This will reduce the amount of mess and help you stay organized.
EQ/ PGQ series is another option than Mechanic HQ/ HQL series
HQ/HQL: Drawer Dimension: 570mm x 410mm
EQ/ PGQ: Drawer Dimension: 570mm x 380mm 
FGTT-520- Great Tool Trolley Group in 520PCs and FGTT-450 Great Tool Trolley Group in 450 PCs are strongly recommend on HQL only 
9913PGQ TOOL CABINET- ROLL- WAGON
ITEM NO.
Measure
W
(mm)
D
(mm)
H
(mm)
Cuft
9913PGQ
Overall
670
460
812
14.5'
53.4kgs/ PC
Overall+5" Casters
670
460
960
3 Drawers
576
380
154
PANEL AREA/ LIFT PANEL
603
404
233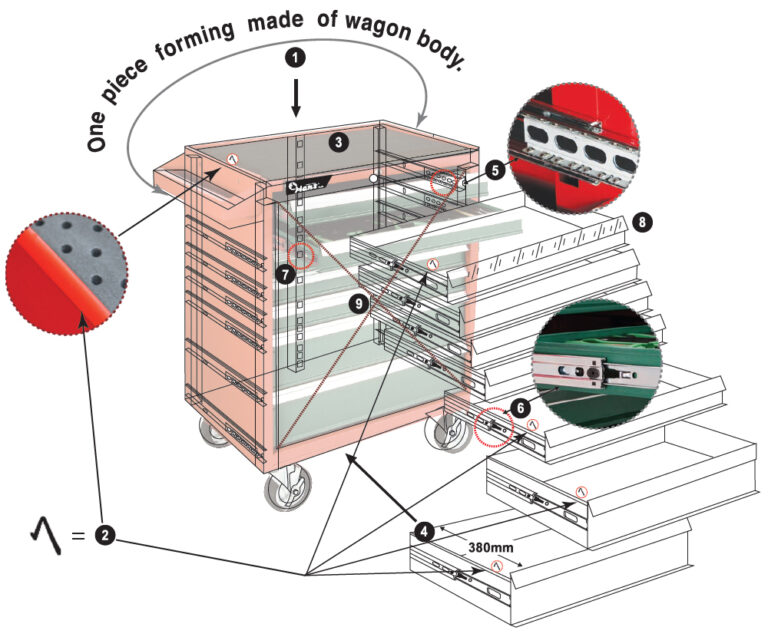 EQ/ PGQ series features:
One piece forming Panel made of wagon body reinforced.
Hemmed edge for all drawers and body that adds safeguard that will harm not at all.
EVA 2mm protective on the trolley.
380mm deep wagon drawers.
36mm(H) ball bearing slide, easy move the full ball bearing side on all drawers.
Each drawer with a designed switch for quick release.
Two-section of drawer fastener ensure safe closing without damage.
Electroplated aluminum handle with safe and prevent an injury.
The accuracy of cross point of cabinet are ±2mm.