1891-Waterpump Groove Plier (American Style)
Waterpump Groove Plier (American Style) 1891-6/ -8/ -10
Pince multiprises entrepass

é

e
Regulowany klucz do węża
Verstellbarer Schlauchschlüssel
Alicates multitoma regulables
وجع خرطوم قابل للتعديل
ประแจท่อปรับได้
1891-6/-8/-10/-12/-16/-20
美規水管鉗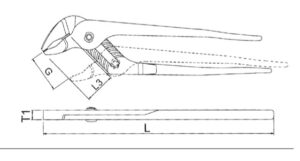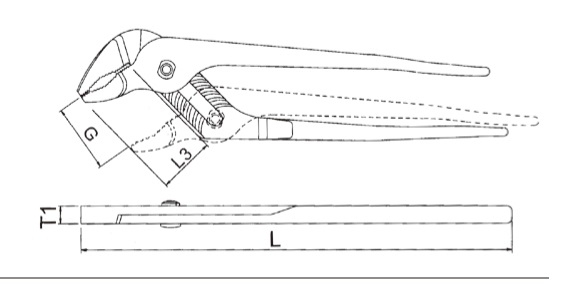 What Is Waterpump Groove Plier Used For?
WaterPump Groove Plier is a tool used to tighten and loosen bolts, which are large cylindrical objects that connect different mechanical parts. It is also used to hold, form, or shape irregularly shaped objects that are too small for normal pliers to do such as wires or copper tubing for plumbing.
Fast assembly: the jaws and slots guide screws and nuts into the perfect position. Since the clamp uses an external Centre bolt, it's less likely to slip off, unlike other clamps that rely on an internal spring. This makes it easier to assemble products quickly without compromising their stability.
1891
L
mm(inch)
T1
mm
L3
mm

g
G
mm
GROOVES


pcs
6
160(6")
9.5
22
200
25
4
6
8
200(8")
9.5
26.5
230
30
5
6
10
250(10")
10
34.5
400
47
7
6
12
315(12")
11.5
37.5
600
50
7
6
16
400(16")
14.5
56.5
1190
105
9
6
20HD
510(20")
14.2
81.6
1774
137
12
1