1866- High Leverage Long Nose Plier
1866- High Leverage Long Nose Plier (American Style)
Pince à becs demi-ronds haut de levier
Szczypce z długimi końcówkami o dużej dźwigni
Spitzzange mit hoher Hebelwirkung
Alicates de bocas largas reforzado
بنسة أنف طويلة ذات رافعة عالية
คีมปากแหลมแบบแรงงัดสูง
1866-5/ -6 / -8
美式省力型尖嘴鉗
ASME B 107.13M
Long Nose plier is used in a variety of trades for cutting and holding wire. Cutters and grips enable the user to complete tasks quickly and accurately.
Long nose plier provides a larger grasp on bent wires,
allowing skilled craftsmen to cut, bend and reshape wire with ease.
The extended grip of the pliers is useful in commercial settings
where a higher level of control is required to effectively manipulate wire
while completing electrical work or retouching an art piece.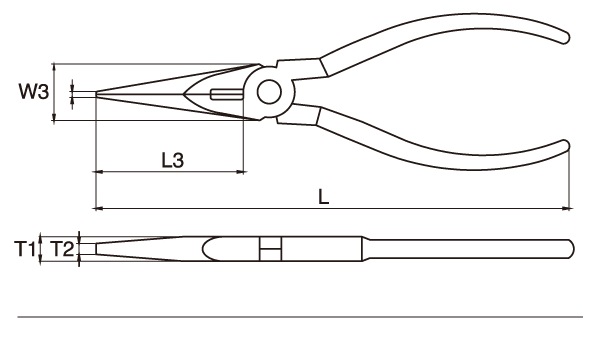 1866
L
mm/inch
L3
mm
W3
mm
W4
mm
T1
mm
T2
mm

g

pcs
5
140/ 5-1/2"
40.8
14.8
3.2
10.2
2.4
120
6
6
150/ 6"
47.5
17.6
3.2
10.2
2.4
140
6
8
200/ 8"
60
22.4
3.2
11.7
2.4
210
6