1814-Chain Clamp Vise Plier
1814- Chain Clamp Vise Plier
Pince-étaux chain
Zacisk łańcuchowy
Kettenklemme
Mordaza grip para tubos de cadena
سلسلة المشبك
ที่หนีบโซ่
大力鏈條型萬能夾鉗
Chain Clamp Vise Plier• The jaws of the chain pipe wrench have a jaw capacity of nine inches, making it ideal for gripping odd-shaped pipes and pieces tightly.

• The construction of the product is made of high-quality materials, like heat-treated alloy steel, providing maximum toughness and durability.

• The classic design of this trigger pipe wrench allows for strong clamping capabilities.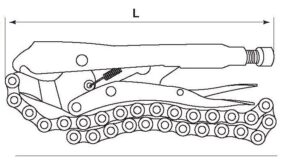 1814
L
mm(inch)

g

pcs
9
226(9")
750
6