1805- Locking Plier- Heavy Duty
Locking Plier- Heavy Duty
Pince-étaux
Amerykański zacisk uniwersalny
Amerikanische Universalklemme
Mordazas de presión
المشبك العالمي الأمريكي
แคลมป์สากลอเมริกัน
Standard Curve Jaw
美式萬能夾鉗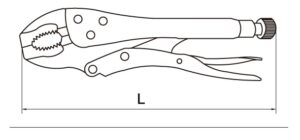 Made by Chromium-molybdenum alloy steel (chrome. moly)
is an alloy used for high pressure and temperature use. It is used in oil and gas, energy, construction and the automotive industries because of its corrosion resistance and high-temperature and tensile strength.
Locking pliers are available in many different styles, sizes, and shapes. They are the kind of pliers that lock themselves in position with an "over-center" cam action. Locking pliers are most commonly used for many different functions, including fixing metal parts for welding.
1805
L
mm/inch

g

pcs
5
125(5")
156
12
7
175(7")
340
12
10
250(10")
514
12
the picture is only for reference, please make the object as the standard.