Quality Assurance-Pneumatic Tools/ Impact Wrench
Pneumatic tools use compressed air to power a variety of tasks. The compressed air produces the force that drives an air tool. These power tools are used in factories and industrial plants, but are also popular in automobile repair shops and construction sites. Cleaning up debris on a farm or trimming trees is made easier with pneumatic tools, as they can handle all kinds of rough jobs. However, it's important to know that not all air tools can be operated inside;
Overview of Air Tools or Pneumatic Tools
The two major types of pneumatic tools are rotational and percussive. Rotational tools use an air motor to rotate a shaft or head, while percussive tools use pressurized air to create vibration or movement.
Flexible manufacturing systems bring with them the advantage of high product variety that you can achieve without having to install expensive equipment. The trick here is in segregation. Fanuc, one of the leading manufacturers of industrial robots, has identified over 1,000 different types of accessories for its robots based on application alone.
Pneumatic tools are used in many industries, from construction to automobiles. They do have a major downside, though: they require a full supply of compressed air, something that's hard to come by for people who live in apartments or condos.
Pneumatic tools offer many benefits over standard power tools. Air tools will not eat up your energy supply and generally allow you to work longer without the need for a recharge. Air tools also generate less noise than regular power tools and don't give off any sparks.
Here are Different Types of Air Tools that are very popular.
Air Impact Wrench/ Pneumatic Tools
Air Ratchet
Pneumatic Drill
Pneumatic Screwdriver
Air Hammer
Pneumatic Reciprocating Saw
Brad Nailer
Framing Nailer
Pneumatic Riveter
Pneumatic Staple Gun
Air-Powered Sander
Grease Gun
Caulk Gun
Siphon Gun
Needle Scaler
Sandblaster
Pneumatic Shears
Die Grinder
Pneumatic Blower
Tire Inflator
Paint Sprayer
Automobile Lifts
Pneumatic tools require regular maintenance to keep them functioning properly. These simple steps will help extend the life of your tools and prevent costly repairs.
Step 1: Always unplug from the air supply when not in use.
Step 2: Conduct a visual inspection of the tool before each use. Look for signs of wear or damage, and make sure all moving parts are free of debris.
Step 3: Inspect the feed system regularly, checking for clogs or leaks.
Step 4: Check lines and compressor for moisture buildup. If present, drain any moisture before using the tool.
Step 5: Lubricate pneumatic tools regularly with a few drops of oil. This will help protect internal components from corrosion and wear. Be sure not to over-lubricate, as this can also cause damage.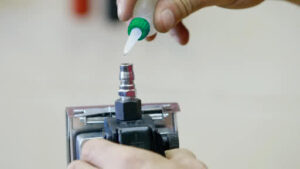 It is important to properly maintain your air tools on a daily basis. This includes adding a few drops of pneumatic tool oil at the end of each work day. This will help protect the internal metal components from moisture damage. It is also important not to over-lubricate, as this can cause damage to the tools.